Portable Staging Sydney
We supply portable staging all over Australia.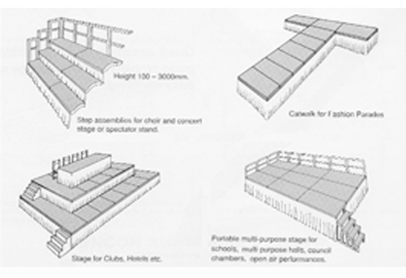 Our Boom gates are designed for constant heavy duty use in all commercial and industrial applications.The standard boom gate can handle a boom arm up to 6 metres in length.

The articulated boom gate can handle a boom arm up to 4.5 metres in length.

Safety features of our boom gates include an in ground safety loop or photo-electric beam. All boom gates will failsafe in event of main failure.
Demountable portable staging podiums
Multi-purpose stage modules for all performances. Modular = limitless stage layout configurations
Quick assemble and dismantling = time saving
Robust design = good structure stability
Easy handling = take them anywhere
Compact storage = uses less space
Complete range of accessories = to suit any performance
Rapid portable Podiums
Technical Data:
Standard dimensions 2000 x 1000mm.
Other dimensions are available.
Heights up to 1000mm. Over 1000mm available on request.
Loading 500kg/m² (5.0kpa).
Accessories:
Free standing stairs, hand rails, edging (textile or timber), storage and transport trolleys. Portable top structures for curtains, stage lighting and scenes.