KAC Call Points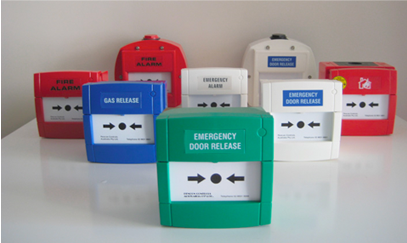 We supply a full range of conventional manual call points, including indoor call points, KAC call points and Break glass call points with Active Fire (AFP) Certification.

The range of call points we have available includes indoor and outdoor models, single pole, double pole with change over, contacts, weatherproof, IP67and Intrinsically safe?call points.

Colours available are red, white, green, blue and yellow.

Accessories include replacement glasses, anti-tamper covers, test keys and flexible elements.

Call point label markings such as Emergency Door Release? Emergency Alarm?and Evacuate?are available.
Indoor Call Points

From conventional to analogue addressable, from indoor to outdoor, from surface-mounted to flush-mounted and from red to yellow, green, blue and white in colour, our range offers you unparalleled choice.

Fast and Easy Installation

A new patented plug and play?concept is at the heart of this new design, which utilises a special terminal block. Upon initial installation, cabling can be terminated into the terminal block. The terminal block is then fitted with a simple continuity link, enabling the wiring of the fire alarm system to be tested for open, short circuit and earth fault without the manual call point unit itself in place.

Therefore, the MCP product does not need to be fitted until the final commissioning stage. This is extremely advantageous; as full installation before commissioning, on a site where other services are still being installed, can increase the likelihood of damage. Upon final commissioning, the continuity link is removed from the plug and play?terminal block, which is then plugged directly into the back of the MCP. Simple but effective: no re-termination required, no time wasted. The call point is now electrically installed; the call point body is screwed to the back box, the break glass or re-settable element is placed in position and secured. Installation complete.

EN54 Compliant Across the Range

The new generation of call points are EN54 compliant in any format. What's more, the MCP design is ready to meet specifications for both break glass and resettable call point options.

Simple Maintenance Procedures

The combined test, reset and lid release mechanism means only one tool is needed for maintenance. The unique nature of this tool also makes the new generation of MCPs tamper proof. If the lid of a device is removed without being isolated from the panel, the alarm will sound. So if the worst should ever happen, ther's no chance of suddenly discovering when it's too late that an MCP has been disabled through accident or vandalism.

Quick Change

An MCP break glass can quickly become an EN54-11 resettable MCP, and a resettable MCP can easily be converted back to break glass. With the new design it only takes a change of operating element. The solution is simple and low cost. So much easier than changing the product or adding springs and additional parts.
Meeting the Needs of OEM

The MCP range enables third party original equipment manufacturers to fully integrate their electronics into the call point housing. This can encompass full design and layout of electronic interfaces, component sourcing and assembly through to final test and shipping. The package also extends to bespoke branding and packaging to suit individual requirements. Smoke detector, panel and systems manufacturers can all benefit.

Switches and Accessories

KAC call point switching devices provide alternative methods of manual activation of systems, rather than the traditional break glass principle. They are available in the classic KAC housings & are equally as brandable, along with our MCPs, they are supported by a wide range of accessories, including mounting aids that enable easy installation throughout the world.

When KAC first invented the break glass call point more than 30 years ago, it quickly became the global standard and through continuous ongoing developments has become the call point product customers can trust and use with confidence.

Today, we are still the industry's leading name in call point technology, exporting to more than 70 countries from our purpose-built research, design and manufacturing facility. Our commitment to continuous innovation and to meeting customers ?needs makes our range the most advanced, the most adaptable and the easiest to install on the market.

Proven reliability with a feature set that offers significant benefits to the customer
All products available in a wide range of colour and marking options
Certified to EN54 Part 11, listed with LPCB to BS5839 Part and also approved by a great many local territories
Extensive range of adaptor trays available, enabling easy installation anywhere in the world
Ex-stock availability for rapid order fulfilment
Full technical support facility

WCP

Our WCP range of outdoor call points are now available to complement our MCP range of indoor call points.

This new range encompasses all the great features of the indoor products and provides you with:-

Fast and easy installation
EN54 compliant across the range
Simple maintenance feature
Full integration of 3rd party electronics
IP67 Rated